Have you seen posts that stand out on the search results because they have extra features like reading time, ratings, or prices? That's Schema Markup!
It is one of the latest ways to improve the SEO of your website. Schema Markup works by getting your site to stand out by making the search snippet enticing for users.
With a complete understanding of Schema Markup, you can boost your website ranking, increase site traffic and get more audience to your website. In this article, we will get into what schema markup is, what schema markup does, and how to add schema markup.
What Is Schema Markup?
Schema markups are coding you can add to your website backend to help search engines understand the content of your page better.
When done the right way, search engines will organize, structure, and give enhanced page descriptions for your users. It also makes your page stand out, easier to notice, and increases the Click-Through Rates.
How Does Schema Markup Help You Stand Out?
When you make a post, search engines can determine what your data says but not what it means. A regular snippet just shows basic information about the page, like the title and meta description.
Schema markup, gets more advanced than that. Schema markup tells search engines what your data means and how it's vital to the readers.
For example, if you put 20/10/21 on your content page, search engines will see this and just produce a SERP entry with 20/10/21. However, with the right Schema markup, search engines will recognize that 20/10/21 isn't any random number but a date.
In summary, Schema Markup explains the role of specific information on a page so that Google and other search engines can understand the intent. With this, Google can help structure your snippets with details like price, date, ratings, and reviews right on the search results.
What Should I Mark Up?
What to markup varies from person to person. You can markup all kinds of specific information on your page; just ensure that you markup details customers find important.
For example, if you are a record label announcing a date tour, you can markup the artist's name, date, location, and how to get a ticket.
You can start your markup process with schema.org; it's a free resource created by the leading search engines, including Google, to help websites reach a standard of the language they understand.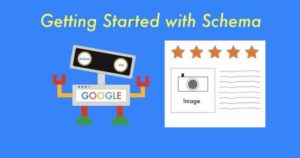 Ways To Add Schema Markup
Many people have problems adding a markup to their webpage as not everyone is competent coding. However, there are markup tools like Google Markup Helper to help you get started.
1.     Find a Popular Schema Markup
There are different types of schema markup, and you can use resource tools like schema.org to choose a relevant one to your niche and content.
2.     Open the Markup Helper
Once you've chosen a schema markup, open it and select the data category you want to mark up. Movie? An article? Some common categories include products, software applications, book reviews, restaurants, and articles. Once you choose from the long list of categories, it will tell you the steps to follow.
3.     Enter the URL
Once you've selected the data category you want to markup, paste the URL of the page you want to markup and start tagging.
4.     Now Highlight What You Want To Markup
Now start highlighting the elements on your page (a date, rating, review, or title) and choose a tag for the highlighted details. For example, if you have highlighted 20/10/21, the appropriate tag would be 'Date.' If it's a  Proper Noun you highlighted, the suitable tag would be 'Name.'
5.     Create the Marked-Up HTML
Once you are done marking up the specifics of your page, click on the option to create HTML, and you will generate a code with the Schema tags.
6.     Add The Code To Your Page
After generating a code, you can now add it by pasting it to your page's CMS or source code. Once you do this, try to test the new code using Google's Structured Data Testing Tool.  This will help you see and preview what the search results of your page look like.
Tips To Improve Schema Markup
1.     Do Your Research
Marking up elements can be a daunting task, and a great way to make it easy is by researching Schema markup examples in your niche. Once you find content similar to yours, try to note what they marked up to inspire your page.
2.     Start With Your Popular Pages
You should start your schema markup with pages on your website with higher views to increase the likelihood of ranking high.
3.     The More Markups, The Better
The more content and elements you mark up on your site, the better your SEO and snippet. Meanwhile, try as much as possible to only markup details that are valuable to the readers and can enrich your snippet.
Conclusion
Schema Markup is very valuable for business, yet only a few people leverage it to boost their site's SEO. Start implementing this effective SEO technique to boost your ranking and stand out from your competition.
However, note that Schema markup may be challenging and won't immediately boost your search rankings. Consistency is the key to reaping long-term results for your site.